The next few weeks are a historic time for NYHC, with both Borrowed Time and the Abductors coming to the city for the first time, plus the premiere of the New Breed Documentary. I've been waiting for Borrowed Time to make their way down here for 10 years, and the Abductors for half as long. And all things New Breed – well, you know how I feel about that if you read IQNM #3. Details below on all three events:
Wednesday, March 30: New Breed Documentary screening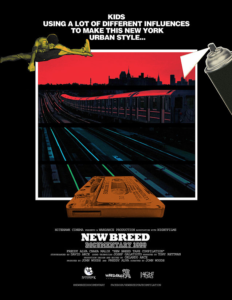 The first showing this Wednesday at Nitehawk is sold out, but tickets just went up for the April 2 screening, and the Philly showing has been announced for April 10. For more information, check their site. I also highly recommend following Freddy Alva on Instagram at @freddyalva_nyc.
If you too are an enthusiast of all things New Breed, there are still limited copies of I Question Not Me #3 for sale, which contains both a New Breed map and crossword puzzle. I'll have a few copies with me on Wednesday, and a possible reprint coming soon.
Sunday, April 3: Borrowed Time at the Grand Victory
The Grand Victory is one of my favorite hardcore venues right now, though often it's a bit too small for the shows being booked there. I think I've been to five shows there and two of them were sold out. I am kind of curious what is going to happen during a Borrowed Time set there since there's not a lot of room to dance, but it should be a good opportunity for NYC to check them out up close.
Borrowed Time plays well-constructed, metal-influenced hardcore in the vein of Stigmata, Merauder and Ringworm, and although they've undergone some lineup changes over the past few years, they've stayed close to the sound that immediately grabbed me on 2006's No Escape from This Life. It seems like a million years ago that I was doing a phone interview with Brendan from my parents' speakerphone in summer 2006 and we were discussing a possible New York show, like them getting added to Merauder/Outburst at CB's (which was already one of the greatest lineups start to finish that I've ever seen, even without BT.) They've gradually been making their way further south, and I met them halfway in Albany when they opened for Biohazard last March, but this Sunday will be their first show in NYC. It's a 2 PM show and it looks like BT is in the middle of the lineup.
Sunday, April 3 – Sunday Matinee at the Grand Victory
2 PM, all ages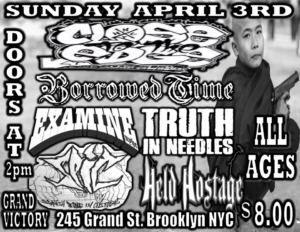 Examine
Truth in Needles
Borrowed Time
Spanish People in Custody
Close to the Edge
Held Hostage
I did my first interview with Borrowed Time for Double Rabies #6, which is sold out, but 7 years later I did another one for SWNK.
Thursday, April 14: The Abductors at Lucky 13
The Abductors are another band I've been waiting to see in NYC or lower Westchester, though in this case only since 2010, and I'm psyched that they are coming to town without me having to book them myself! When the Abductors started playing in 2010, their combined age was approximately 150. For a few years they played catchy punk rock in relative obscurity, but some lineup changes and a slightly harder shift in sound are finally getting them their due. (My favorite tune, Spontaneous Combustion, reminds me of 88-93 era Cold as Life.) Check them out on Bandcamp.
A Thursday night show in South Brooklyn would ordinarily be a tough sell, but I wouldn't miss the Abductors in NYC, and it will also be my first visit to the new Lucky 13. Local stalwarts Carnage Krew headline a lineup that also features Truth in Needles, Pus (touring with the Abductors), the Wurst and Reefer Buddha.