Mindforce is one of those bands like Bitter End and Think I Care that I respected the existence of in my peripheral vision, but their greatness didn't hit me full force until one particular release. That record was Excalibur which I finally checked out and now can't stop listening to. After nonstop recent immersion, I hear the following:
A more urgent Leeway with almost Malone-esque vocals; peak Bitter End, like covering-Unexpected-at-United Blood-era when you couldn't even get onto the floor downstairs; Sai Nam, not necessarily sonically similar but in that both records are like updated classics; the Stigmata 1989 demo; various Slayer, which is what i am renaming the "various paper" drawer at my office; Fuel the Fire era Zero Tolerance; a faster and heavier Dmize, metal in a different way than the "we got metal and that's what's up"; Wrecking Crew; Mickeys Crew; all of the crews; the Crumbsuckers; and all assorted good things not directly described above. It made me want to mosh through the streets of Bronxville and I indeed ran so much faster than usual on my first listen that my hamstrings were sore for 2 days afterwards. It made an incredibly difficult work week bearable and made me go back and purchase anything missing from their catalog of material.
If you're training for a race, looking to smash your enemies, or have time to listen to very little from the modern era, I would suggest it be this. Or if you are equally captivated by Excalibur but not up to date on recent events, guitarist Mike Shaw was recently the victim of a serious car accident and there are a number of ways to support his recovery.
Check the gofundme here:
https://www.gofundme.com/help-mike-shaw-recovery
And Streets of Hate has both the presale for the benefit show on Saturday, March 9, featuring All out War, Death Threat, Regulate, Ekulu, Soul Bind, and Age of Apocalypse …
https://streetsofhateny.bigcartel.com/product/streets-of-hate-mindforce-present-mike-shaw-benefit-featuring-all-out-war-death-threat-etc
… and these Icemen inspired benefit shirts – not sure how much longer the preorder is going to be up:
https://streetsofhateny.bigcartel.com/product/mindforce-streets-of-hate-mike-shaw-benefit-tshirt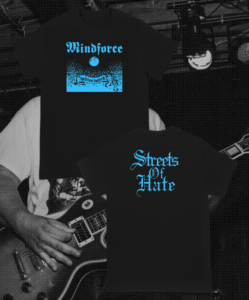 Finally, if you have not yet checked out the Billy Club Sandwich video interview for In Effect, Mindforce is a topic of discussion just before the RUN-D.M.C. story. Did you know that a Mindforce set is actually what inspired Martin's son to make a guest appearance with BCS last fall?
"Mindforce is dope. Shoutout to Mindforce. What up Jay!"