Maximum Penalty tore it up at St. Vitus last night. (Thank you to Freddy Alva for another enjoyable New-Breed based event: a combined New Breed Documentary screening and then live sets from While We Wait, Maximum Penalty, and Beyond.) The MP set was so good that I realized afterwards, almost heretically, that there was nothing Beyond could do to top it. (Besides play Seasons again, and again no one danced, what the FUCK. Now I see why they didn't play it at the Superbowl or that Grand Victory show.) One of the best parts of the MP set, besides my husband dancing like it was 1997, was the announcement that they may soon be releasing new material. Between MP and the Wilding Incident, Jimmy is responsible for so much good shit right now. Today in my post-show glow, "my ears are ringing, I'm still singing," Anti-Heros style, I decided to repost my review of Maximum Penalty – Life & Times that I wrote for Lifers in 2009. A lot has changed since then, both in hardcore and my own life, but the greatness of this album hasn't dimmed one bit. If you told me that any other classic NYHC band played a recent set where half the material came from their "new" record I'd likely be disappointed, but for MP last night it was just right. I'll even forgive them for somehow lopping off the mosh part from Coming Home. Now if only they'd play Could You Love Me to match that new heart shaped vinyl out now on Reaper.
As always, I am firmly against this thing turning into a blog/reposting stuff that is still available elsewhere, but the Lifers site has been down for a few years now so this review is fair game.
Also I've learned my lesson about bringing a goddamn purse to a Maximum Penalty show. This is why I always had my backpack at the Pyramid.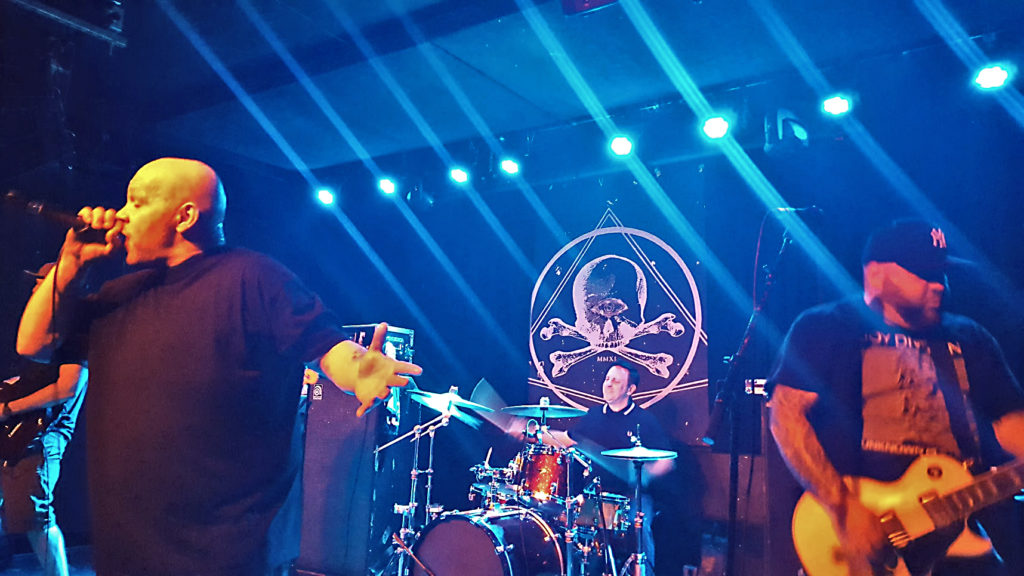 MP In Effect: Life & Times on the LES
(Originally posted on the Lifers site in October 2009)
When I dug this out of my email, my original message to Tremblay was signed "can't wait to hang this weekend!" Which I realize referred to the mess of the weekend that was Fall Brawl 2009 and the ensuing multinational hotel antics.
For more than a year and a half, I couldn't wait to hear the new Maximum Penalty album. These guys built up a lot of anticipation by giving out promo CD's starting in April 2008 at the BNB Bowl day after show. From the quality of the promo songs I knew the whole album wouldn't be a dud, but had no idea that it would end up being 15 songs, many of which are just as good as the promo tracks. The new record will not disappoint MP fans and it may reel in a few new ones as well. In the early reviews I've seen, many are calling it the album of the year. So far, I absolutely agree. The only potential challenge could come from the 570: the new Wisdom in Chains record is coming out later this year, and i haven't heard the new Strength for a Reason yet, although it's supposed to be fabulous. But as of now, I have to go with MP.
Life & Times is 15 songs and over 42 minutes of new material. Style wise it's close to the classic MP sound, featuring Jimmy Williams' inimitable vocals and plenty of hard hitting riffs. Gang vocals are a new addition here; these were absent on their earlier albums, but give an extra punch to tunes like Life & Times and Fight My Way Back. This is MP for 2009 and beyond: a collection of superb tunes in the vein of their classic sound, but with a new twist.
Not only do these new songs exemplify their trademark style, but the songwriting itself is stellar. It's not like they just churned out a bunch of tracks without inspiration or flavor, as some veteran bands have done. Instead, this is a great addition to the existing MP catalog. It's close enough to their previous material to please diehard listeners, but also different enough to keep things interesting, and to make those previously unfamiliar with MP take note. The album coming out on Reaper Records will hopefully expose them to the younger generation as well. Kids who are familiar with the likes of Forfeit or Naysayer but not yet with MP will hopefully see it advertised and check it out.
I already knew this was going to be a great album based on the 4 song promo that they started giving away at shows in spring 2008. Most MP fans are already familiar with the promo material, as it was available for over a year and a half, both at shows and online. The songs must have gone up online in February or March, since I mentioned my first impressions in the MP section of I Question Not Me #1, which came out in late March of that year. I didn't immediately like all 4 songs: my analysis was "I especially enjoyed Life & Times and wasn't quite as keen on slower jams like Tribulations" and that I had lukewarm hopes for the rest of the album. Over the rest of that spring, lukewarm turned into dying to hear the whole thing. Threat Assessment may have eventually eclipsed L&T as my favorite promo track, and I remember having a great time the first time I saw them play it live (at that Skarhead show where the rappers were supposed to be upstairs and the hardcore bands downstairs, but everything ended up being mixed together). Truth & Consequence was the next to grow on me, and soon I liked Tribulations too. I listened to this thing non-stop in my last week of living in New Jersey in May 2008. I recently realized that I've lived in three apartments since then (2 in Mount Vernon and now the Bronx) and have fond listening memories at all three dwellings. How many records have you had to wait for through three different apartments? Luckily this one was worth it.
While Life & Times and Threat Assessment had early hit potential, the real sleeper was Truth & Consequence. Riff wise it's not on par with those other two, and I think the band realized that, by sticking it as the 11th song rather than in a more obvious spot. But it makes up for any deficiencies with lyrical insight and a banging mosh part at the end. I'm not even 100% sure that the lyrics are about the state of hardcore but if they are, it's a succinct and powerful statement of disillusionment with the modern HC scene:
"It was there, I swear, that spirit in our eyes gave me reason to move. It meant something, to you nothing, throw me a line 'cause I've found myself caught out here. Bring yourself to those days, to a time when our thoughts became one and the same. To me something, to you nothing, I'll turn away 'cause I've had enough of what I've seen."
While this doesn't necessarily speak for how I feel about hardcore in 2009, it's a pretty good analysis of how a lot of people I know feel about modern hardcore.
As good as the promo songs might be, they are by no means the only great songs on the album. I've seen them play Paper Bullets at least twice (and snuck a look at the set list because I wasn't sure what it was), but I always assumed that it was an older song that I didn't know, perhaps from Uncle Sham, which is the only MP album that I don't own. (Somehow between my boyfriend and I, we ended up with three copies of Superlife, 2 copies of Independent, and 2 copies of the demos/ESS, which were both mine, since I temporarily lost the first one.) Since it's obviously a stellar tune, I'm not sure why they decided to leave it off the promo. Maybe because there are too many good songs on this thing to pare down into a 4 song preview.
Life & Times, Paper Bullets and Fight My Way Back are an exemplary first three tracks. Much like how Independent has a strong front three, and then a fourth song that is a notch down, the same is true here. (In a strange coincidence, both fourth songs start with ellipses: …So God Help Me and …And The Walls. That's almost as good as Token Entry opening two of their three albums with Revelation and Revolution.) But the fifth and sixth tracks are more hits: Threat Assessment and By All Means. Myself, the 9th track, also fucking rules. Between this one and the beginning of (As You Were Before) there are some great guitar leads on this record. And while Myself is mostly full of catchy melody, there's a great mosh part at the end, as is also true for By All Means.
While at 15 songs it could be shorter, there are no bad songs on this album, and out of those 15 are 7 or 8 great ones. When you think about some long awaited albums that are 10-11 songs and only have 2 or 3 hits, this is far and away in another league. Also, there has to be some supporting songs here and there. An album like From Beneath the Streets is great from start to finish but songs like Over You or Forbidden Zone to balance out the standouts like Antidote or The Edge.
Although a friend slipped me a burned copy at Breakdown a few weeks before the official release, I also preordered the LP/longsleeve package. Overall I like the layout and how prominently the lyrics are featured. I'm always vexed when a release comes without lyrics, or without ALL the lyrics. The poster is fucking classy and a nice departure from all that intricately googly Deathwish style artwork that I thoroughly loathe. It depicts the band standing on a rooftop in front of an urban skyline and is a perfect complement to the grit and authenticity of the album. The shirt design is cool but the colors looked better in pictures, and mine almost looks like they forgot a layer of print. But that hasn't stopped me from wearing it frequently.
[2016 editor's note: my cats ate the sleeves of this lovely longsleeve sometime around 2011. So much for wearing it frequently. Possibly being resurrected as a tanktop any day now.]
The 12″ itself features a handsome red and black combo, and I like that it comes with a download card, as most Reaper releases seem to. (In fact I think the only records I've purchased that have come with download cards are Reaper exclusives; then I tried to remember the last time I bought a record that wasn't on Reaper.)
I'm sure that by the end of the year, I'll have even more to say about Life & Times. I've been listening nonstop for the last few weeks, but these are still my initial impressions. This is a long and complex album; there are many layers and so much going on that I notice something new with every listen, like the echoey part in What Goes Around. (Attn: Stefan P and other open and notorious fans of echoey parts.) For both veteran fans of Maximum Penalty, and newcomers that are interested in the best kinds of NYHC, I suggest you pick up your own copy ASAP. This record is far from "slipping through the cracks of this world, never to be accepted;" instead, it should be heralded as a modern classic.