We are less than two weeks away from the New Breed Documentary screening at Alamo Drafthouse Yonkers, aka the most exciting Westchester hardcore event since Killing Time at the Haunt in 2008. Speaking of which, Carl Porcaro will be cohosting the Q&A following the documentary, along with myself and Mike McAuley.
Tickets are available on the Aalamo Drafthouse website.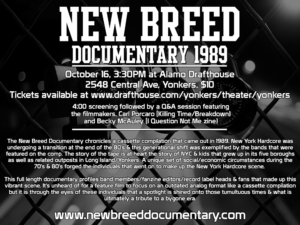 In the 30 days leading up to the documentary, I am also posting New Breed content on instagram.com/iquestionnotmedia with the hashtag #dailybreed. Tune in for Bad Trip Fun Crew Fridays etc.
With all this New Breed stuff, there hasn't been much time for Serve 'Em a Sentence, but check back soon for the debut of the Eat Side Story series, one of the first of the recurring features named after Maximum Penalty songs.