Below is a Confusion interview that was originally slated for my first zine Double Rabies. Thank you Mike Scondotto for doing this interview in 2006, and apologies it never made it into one of my paper zines. Mike currently plays in The Last Stand and is featured in the New Breed Documentary. This interview was conducted before I did successfully see Confusion at Popeye's in 2007.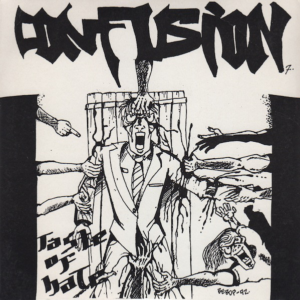 First off, I'm not sure if all Double Rabies readers are familiar with the history of Confusion, so if you could provide a little history and a timeline of the band.
Confusion started in the summer of 1990 in Brooklyn NY. The band had actually played a total of one show without me on bass, the very first one, which was in a backyard in New Jersey. It was August of 1990 and the lineup was Lament, Merauder, Patterns, Social Decay, Dmize and Confusion opened up! I think (not totally sure) Sub Zero played too, but I could be wrong on that one. I was at the show, because all of my friends were playing and went down with my brother and the guys in Lament. Brooklyn formed its own scene in 1990 with all of the bands mentioned as well as Nobody's Perfect, Life Of Agony, Judgment Day NYC, Darkside NYC and Social Disorder. By the fall of 1990, CB's had stopped doing hardcore and Brooklyn got things rolling. Confusion's last show was in December of 1994 @ Lamour in Brooklyn opening up for Deicide, who we had already played with the year before, we were big fans to say the least.
I know that Confusion was supposed to play a reunion show last May, but the date was given to Hatebreed or something. What happened with that situation?
Yeah, unfortunately, I myself had nothing to do with the booking of that show and as you can see it fell apart and CB's gave the date away. It was an odd show for Confusion, it was with a lot of traditional HC bands and I don't think it would have been a good fit.
Are you guys planning to reschedule the reunion any time soon?
Yes, but it may not happen until 2007. Me and Mike Fried (vocalist) have decided to finally get the ball rolling on the long overdue Confusion discography and we will be putting it out on Satan Wears Suspenders Records, a label recently started by Rich from Everyday Dollars/Darkside NYC. Confusion and Darkside played a lot of shows together and had a similar style mixing Hardcore and Death Metal, although in the end, Confusion went 100% Metal by the time we broke up.
I read that Confusion played one show in 2003 as a benefit for late member Frank Collins. Did you decide to reunite in 2006 for a similar situation, or were you going to play just for fun?
That show in Jan. 2003 at CBGB's was amazing, Rich Darkside and myself booked all of the bands and the show was sold out. We raised a lot of money for Frank's Mom, she was there and so was everyone from the old Brooklyn scene, you would have loved it Becky! The reason to do it in 2006 was pretty much for fun and also to let newer fans see the band at least for one time. Actually, I was only going to play bass on a song or two and sing a song or two at the 2006 show, as there was going to be a real bassist playing… I haven't played in years and I remember my fingers killing me after the CB's show.
Would you consider Confusion to be more of a hardcore band or a metal band? What do you think about those whiny purists who think that hardcore should only sound like it did in 1982 and that there is no place for metal in hardcore?
Confusion started as a hardcore band, went on to mix death metal with hardcore and then went full death metal. The ultimate "crossover" kind of bands in a way, we even had a big thrash element on our 7″ as well. I see nothing wrong with a metallic sound in a hardcore band, as long as it's done right. The problem is that there are now full-on METAL bands claiming hardcore merely because they have tattoos and short hair and that's not cool at all. I love hardcore and I love metal, yet I hate almost all of today's "metalcore" bands. If I want to hear hardcore I put on Negative Approach, Ignite, Gorilla Biscuits, Youth of Today, Sick of it All etc. When I want to hear metal my tastes are for bands like Darkthrone, Absu, Slayer, Satyricon, Enslaved and Dismember.
I really like the version of Taste of Hate that is currently on your Myspace page, from your set on WNYU. Was that song originally on one of the demos?
Yes, the song "Taste of Hate" is on the first demo from 1990 called "Four the Force." Why we went on to name our 7" "Taste of Hate" in 1992 … I have no idea anymore! Ha! That's one of Confusion's first songs ever actually. I had to learn it when I auditioned.
Since the 7" was released on a label out of France and is pretty hard to find these days, would you guys consider re-releasing it, or releasing a Confusion discography?
Only 1000 of the "Taste of Hate" 7″s were made in 1992 by the singer of Kickback on his label in France so yes, it is very hard to find. However there will be a CD discography in 2007 like I mentioned. It will have the two demos, the 7″ and rare live stuff like the WNYU set etc.
I have always been intrigued by some of the lyrics to Distorted Visions, but I could never figure out all the words. What is the song about, and would you mind posting the full lyrics?
Mike Fried wrote all of Confusion's lyrics and to be honest I had no clue where he got some of his phrasings and ideas from. I asked him back then and his specific answer was "all of my lyrics are abstract". While I can't give you all of the DV lyrics I can give you some phrasings "… zeros lined up to the right, blinded by too many points of light… many times you've tried to break away damned in hell is what they'll say. Don't judge its cover by the book, it's time for you to take another look…" "you cannot run around with this view of society". Bizarre huh?
How did Distorted Visions end up on the East Coast Assault comp? Considering that many comps are vehicles to promote newer bands, what was idea behind a comp like East Coast Assault that featured a bunch of already established bands?
In fall 1992, Confusion and Darkside NYC took a little road trip to Philly to play with Dare to Defy and Starkweather in a basement, where the owner of Too Damn Hype Records lived. His name was Met and he was the drummer of Dare to Defy. We were asked to be on the impending comp that night, along with Darkside. The comp came out in the Spring/Summer of 1993 and the only "established" bands on that entire thing at the point were Life of Agony who were already signed to Roadrunner and Only Living Witness who were signed to Century Media. None of the bands on that comp were big outside of their own areas before that comp came out. Merauder, Overcast and Converge were all small bands still at that time.
While I've got you in an interview, can I ask a little bit about Direct Approach … I love those two Direct Approach songs on the New Breed Comp, so I was very sad to find out that DR did not record anything else. Was Direct Approach more of a side project type deal, and did you guys play any shows? How did you end up on the New Breed Comp?
Wow, I think it is amazing that Direct Approach is even in your vocabulary! Let's see I had just turned 15 and was in the small band in Sheepshead Bay Brooklyn called Direct Approach. We would practice in our drummer James's basement on East 12th Street and Ave Z. The rest of the band had Ray on vocals (a skinhead) and "Karate" Chris Bozeth on guitar, (another skinhead). Me and James were the 2 straightedge kids. Ray knew Chaka (Burn) and this other dude Freddy Alva pretty well and they were putting a cassette comp. together and somehow, Direct Approach, a bunch of 15-17 year olds from Brooklyn who never played ONE SHOW live, got on this landmark compilation! Ha! I never even got a copy of the damn thing, but I did get the European bootleg CD version that came out 10 years ago and that was pretty sweet. After we broke up in Sept 88′, I started Close Call with John from Candiria. The guitarist Chris started a band called Merauder, later moved away to upstate NY in 1991/1992 and then formed a band called All Out War. You can definitely hear a similar sound in early Merauder and early AOW and Chris is that connection. Crazy huh??? 100% true.
I know that you now play in Inhuman, but did the other members of Confusion go on to other bands as well?
The first thing I did post Confusion was play bass in a short lived Grindcore band called Hiroshima 22 from Brooklyn. They actually did a 7″ after I had quit. By the spring of 1995 I had started Inhuman. As far as the other members of Confusion go, I was the only one who seriously did music after the band broke up. Now however, Mike Freid is doing a new band with Dennis on drums, Dennis played for Confusion for the 2003 reunion show. The original and only Confusion drummer Ralph is MIA. We think he is living in the Midwest somewhere. Guitarist Mike Price (91-93) plays in bands in NJ, but not hardcore or death metal. Guitarist Pete Mellucci (93-94) moved to Arizona years ago and is good friends with the guys in North Side Kings and I think played on one of their recordings.
Anything else you would like to discuss?
I'd just like to thank you Becky for the interest in the band. Although the band is dead and gone, there will be at least one show and a CD for the Confusion fans to look forward to. I'd also like to plus my band Inhuman, we will have a new CD out in 2007 as well. Check us out here: www.myspace.com/inhuman if you like hardcore with a dark edge. Cheers!